Blanket scarves….how I love thee!
I was doing some scarf research earlier today on Google and one of the top questions being asked was "Are scarves in style in 2020?".  And I think the answer is YES!  When will it ever be no?!
The first product that I designed, made and sold was a blanket scarf!  Back in 2011 I couldn't find any knitted blanket scarves anywhere so I thought I would fill the gap & help keep my neck warm.  It was inspired by photographs of the rings of Saturn when I was designing my first collection after leaving University.  Each scarf had a unique stripe pattern, so each one was individual & I carried that forward to the blanket scarves I make now!  (Ps…I was doing knitted co-ords waaaay before the mainstream!)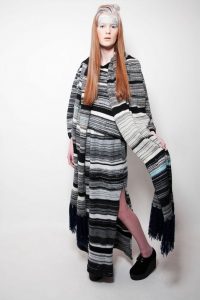 Blanket scarves are to me the best thing, especially when made from luxuriously soft 100% Geelong lambswool- I love the feeling of being completely enveloped by a big swathe of fabric (things just feel a little safer when you're cosy).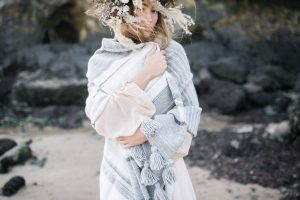 Blanket scarves are brilliant because you can use and wear them in multiple ways!  Bit cold on the sofa?  Put over a blanket scarf!  Want something to keep your front warm?  Get out that blanket scarf!  Chilly round the BBQ? A blanket scarf can dramatically change your look, adding texture, pattern & contrast to your coats, jumpers & summer dresses in the evening.   I like mine in greys and neutrals because they pair well with my multiple (and too many) coats!  (But if colour is your thing then I take commissions- just pop me an email!)
I would love to hear how you wear your blanket scarves and which one's your favourite- let me know in the comments below.