"I'm always knitting, it's just a part of life now, a part of me. I love it."
Amber Hards is a Bristol based knitwear label, designing & making luxury knit clothes & accessories as well as high end fashion knitwear. Amber is a knitwear designer, machine knitting teacher and author of new machine knitting book "Texture and 3D Effects".
Products
Using 100% lambswool & other natural fibres, the products I make & sell are incredibly soft to the touch & timeless in design.  Working with a mostly neutral colour palette & minimal clean silhouettes, these pieces are made to last with great care, attention to detail and love.  In 2020 I showcased & sold products in a pop-up with John Lewis in Cheltenham in partnership with The Great British Exchange. I am proud to be a member of the Re:Directory , a sustainable shopping directory featuring many other fantastic small businesses.
I design and make everything myself from my studio at the Bristol Textile Quarter. I use vintage, domestic knitting machines which are hand operated so it's a very manual process, people don't always realise it's fully hand-driven; it's like a weaver using a loom. The time and effort that goes into the knitting process means there's a great sense of achievement when a piece comes together.  I'm passionate about pushing knitwear forward and pushing people's perception of knitwear forward. When you knit something nobody's seen before, it's just amazing – and all from a cone of yarn. 
Design p
rocess for my knitwear
My products are designed to be beautiful, practical and to do what they're supposed to. I take the utmost care over every piece and always want to be sure the products work for people and are designed and made to be the best they can be and are created to last. I put so much into making sure the details and quality of the products are just right and am proud of the work that goes into designing, developing and making every piece. Seeing someone wearing and loving something you've created and made from a cone of yarn is a genuinely wonderful feeling.  These pieces are made to last, to become heirlooms.  I really want customers to love the products as much as I do,  I want you to enjoy the experience and feel special wearing them.
I am really passionate about using natural fibres.  I knit with 100% lambswool spun in Yorkshire.  Lambswool is a fibre taken from the first shearing of a meticulously bred Merino lamb & is the highest quality of sheep's wool to be found.  Soft & lightweight with excellent insulating properties this wool works perfectly for accessories.  I also create very little waste as everything is fully fashioned or shaped rather than cut and sewn.  I use ends of cones for attaching labels, and I recycle the cones afterwards.  It's hard to get across the feel of these pieces using just photographs.  They really do feel wonderful and cosy against the skin, and the muted tones pair well with any other colour.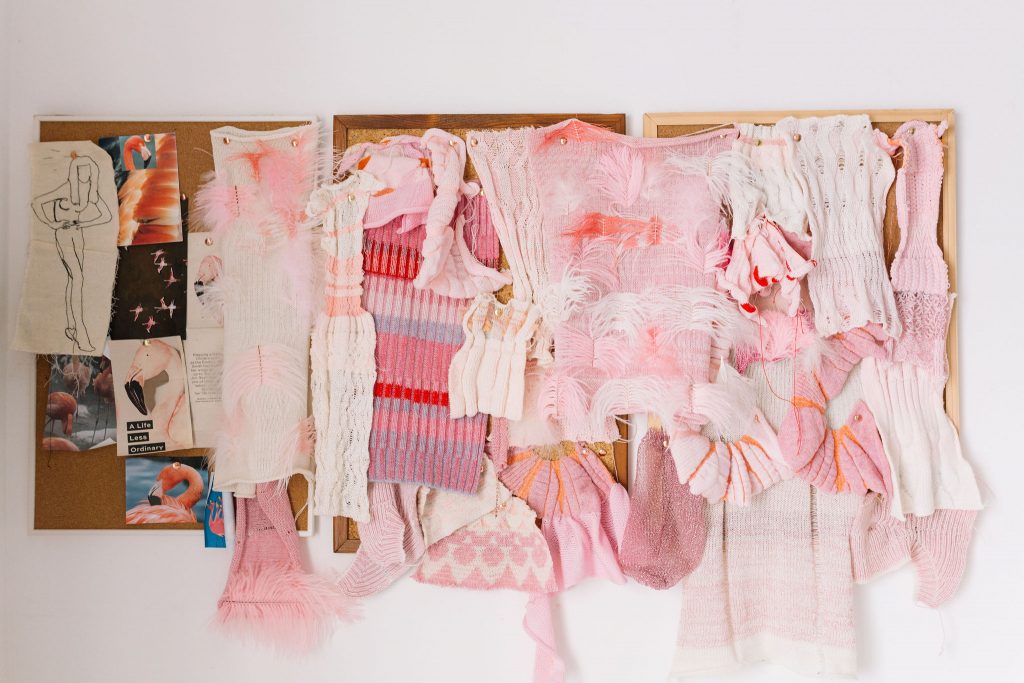 Machine knitting teaching
I've been teaching machine knitting classes for the past 7 years, and using them for 16 years and now have them available online for beginners, students and creatives. In the workshops we practice and try a range of techniques in a space that allows you to explore with confidence. I use my many years of experience & large collection of samples & garments to cover the basic techniques but expand them & give you some new ideas for using them.
The workshops are an excellent experience for people who are keen to learn and explore what domestic knitting machines can do, they are capable of an enormous range of inspiring fabrics. I love the feeling of helping someone produce something and the pleasure they get from creating; it's incredibly rewarding. My aim is that people in my workshops learn about all the possibilities and leave with new or developed skills & inspired to try out some new techniques. I'm passionate about sharing the many exciting things you can do with a knitting machine, and opening people's eyes to the wide variety of fabrics you can produce.
Fashion knitwear
I also create high end knit collections- I design and create individual and unexpected garments that aim to push boundaries. This is my art form, it's how I express myself and comes from a creative need within me. It's something that flows very naturally and feels like it has no limits. With my collections I'm trying to push knitwear forward and help people to see and think of it in different ways by creating pieces that don't necessarily look like knitwear. For me it's about the future of knitwear as an art form within the world of fashion and couture. I often start the making process by creating samples of fabrics, with the design coming from the sample. I love the sampling process; experimenting and playing on the machine, trying out ideas and letting things flow is when I'm really in my element. When I'm deep in the knitting, creating samples, a new idea can develop from a completely different idea, sparking off a new path – it's so exciting when a sample forms like that. The very best times are when I have so many ideas flowing, it's hard to keep up with them; some of my favourite designs come from those times. You can see my past collections which use unusual fibres, shapes and techniques to create a wide range of pieces that explore movement, texture and form here.
Amber graduated from the University of the West of England in 2010 with a first class BA (HONS) in fashion/textile design and was selected to show at Graduate Fashion Week in the Bristol and Gala show. Following graduation her work has been exhibited as part of Shanghai Fashion week and as a finalist at the Knit and Stitch Graduate show where she was presented with an innovation award by the Craft Council. See collections for past pieces & journal for press & photoshoot collaborations.