Teaching machine knitting workshops has been a big part of my life for the last 5 or so years.  It has been my mission to pass on my knowledge, teach the skills & inspire students with what these machines can produce.
Since covid I had to change how I teach these classes, from in person to online.  It's a transition that I am so happy I embraced.  Now I can reach many more people, from all over the country & world.  It's so exciting to me that I can teach someone in Canada at the same time as someone in France.
My main focus during these workshops is to hold them in a friendly, relaxed & encouraging environment.  It was something I worked really hard to do during my in person workshops & I wanted to carry that through to online.  So no question is too basic,  I try and keep my explanations and demonstrations as clear as possible & encourage you to ask questions & share your work with me after the workshop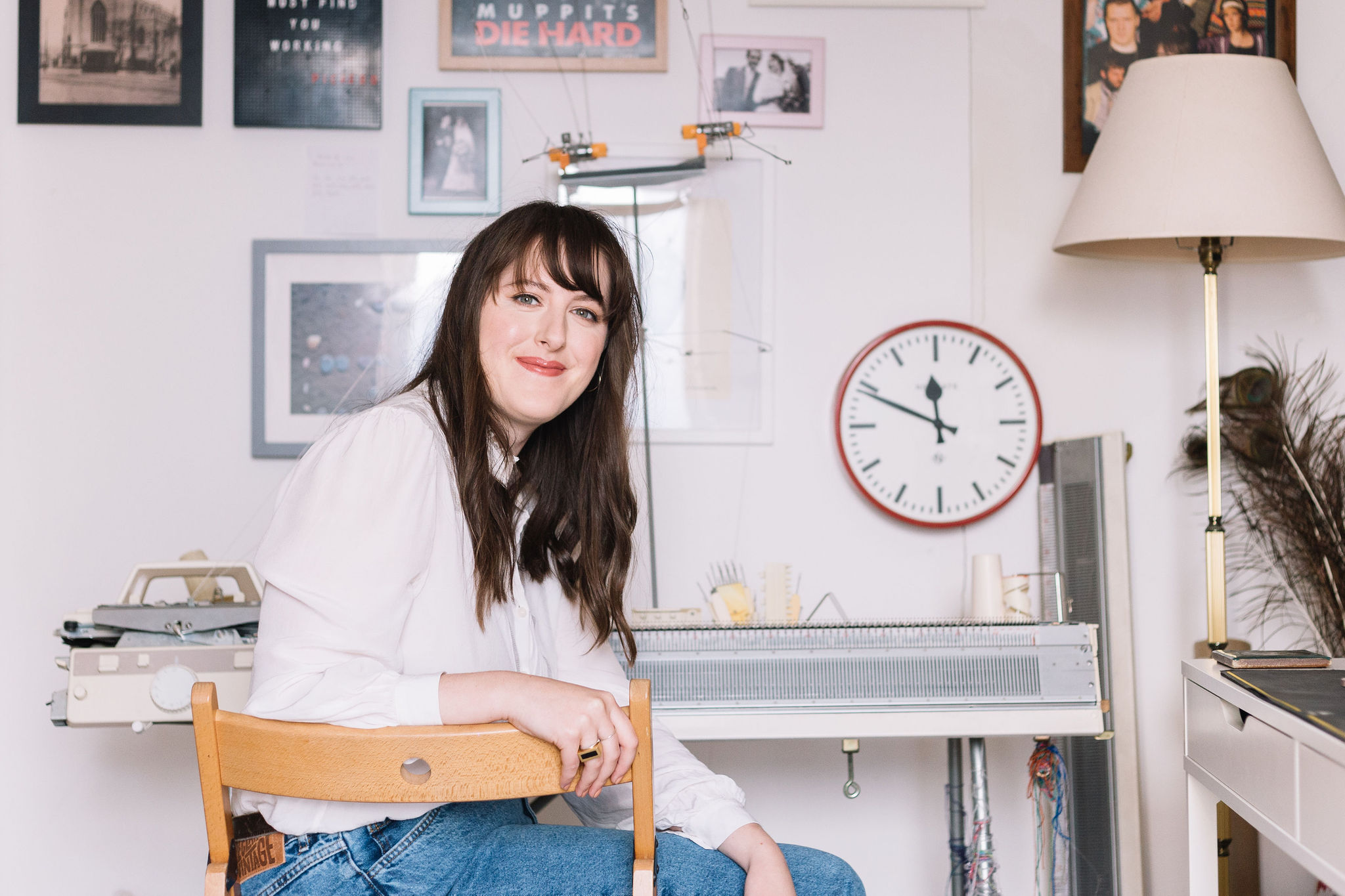 Why machine knitting?
I have been machine knitting for about 14 years now & have been addicted ever since I had my first workshop at university.  I was amazed at what I was able to produce. Discovering all the different techniques and possibilities, understanding the machine and learning how to sample, I found new things that I could bring to the process. I loved just playing around, creating and seeing how changing just small things could give vastly different outcomes. It's a time-consuming technique, more so than other textiles, but I knew it was what I was meant to be doing. It has got to be one of the most diverse processes for producing textiles & these old domestic machines can produce much more than they were originally designed for.
They offer so much in terms of texture, pattern, colour, weight & sculpture that there are many different avenues you can take it down with limitless outcomes.  I love that armed with a cone of yarn & one of these machines you can create a myriad of fabrics from scratch and have a hand in the whole process.
I love the sampling process; experimenting and playing on the machine, trying out ideas and letting things flow is when I'm really in my element. When I'm deep in the knitting, creating samples, a new idea can develop from a completely different idea, sparking off a new path – it's so exciting when a sample forms like that. The very best times are when I have so many ideas flowing, it's hard to keep up with them; some of my favourite designs come from those times.
As machine knitting has become more popular over the years, new and exciting yarns have been developed, extending even further the types of fabrics you can create.  If you love creating textiles, learning how to machine knit would really inspire you.  And if you already know how to machine knit, I think there are still some really exciting ideas you may not have considered that I share in my beginner workshops.
The knitting machines are hand operated, so it's a very manual and actually very slow process. People don't always realise it's fully hand-driven; it's like a weaver using a loom.  There are also so many techniques to learn & delve into, I'm always learning, pushing a new technique and combining them to create new & interesting work.  There's never a chance of getting bored with knitwear.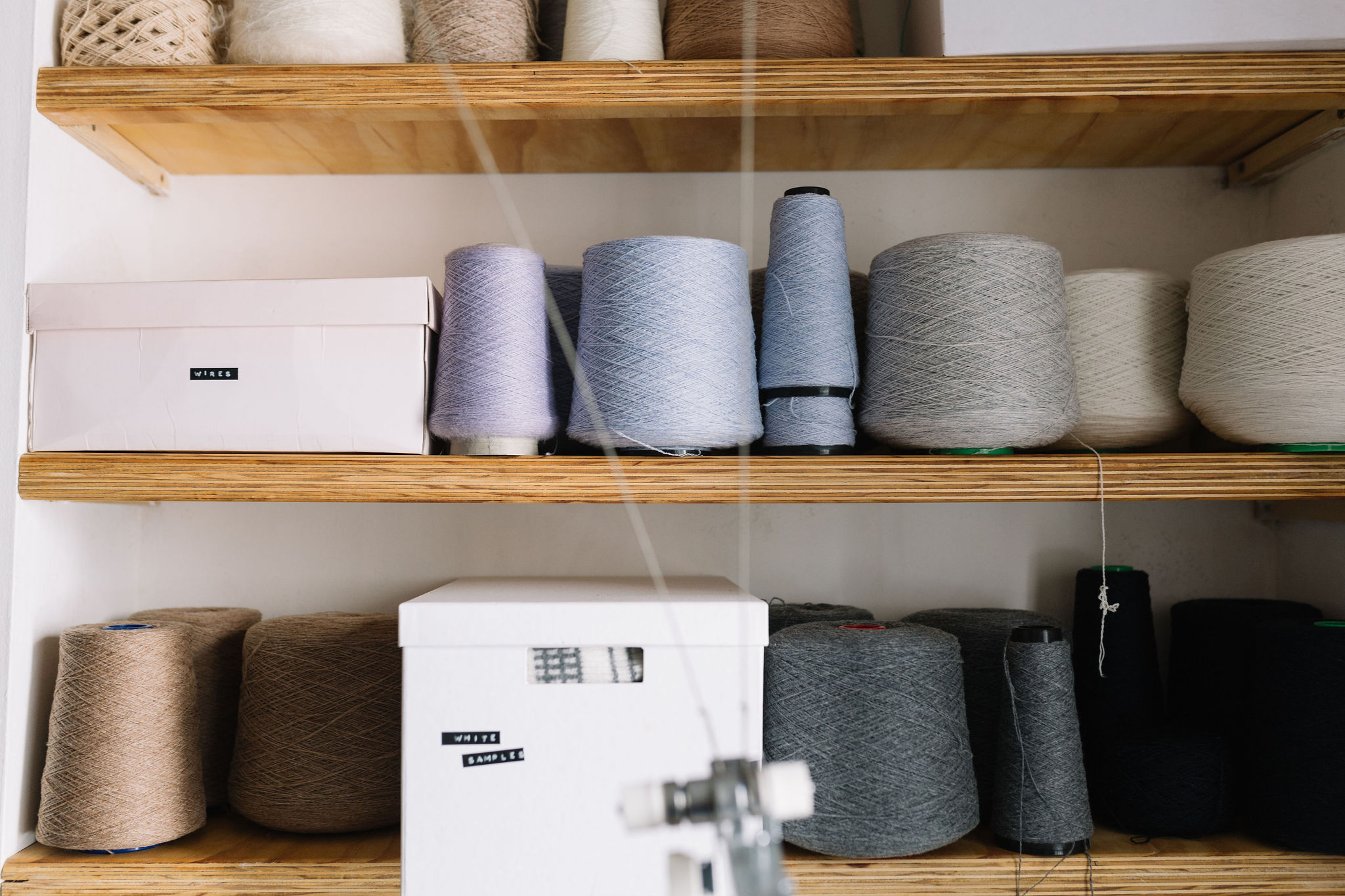 Why I love teaching
I teach machine knitting workshops for beginners, students and creatives. In the workshops we practice and try a range of techniques in a space that allows you to explore with confidence.
The workshops are an excellent experience for people who are keen to learn and explore. I love the feeling of helping someone produce something and the pleasure they get from creating; it's incredibly rewarding. My aim is that people in my workshops learn about all the possibilities and leave with new or developed skills.
I often teach people who are scared of the machine & find it overwhelming.  My greatest pleasure is breaking everything down in a methodical and simple way, enabling them to walk away confident to continue practising on their own & seeing the spark of inspiration and love of machine knitting echoing my own.  Seeing triumphant faces when they have learnt a new technique or something has just clicked is just amazing.
I also love spreading the word of machine knitting, and inspiring a new appreciation for this skill.  Over the years it became synonymous with dated designs, nasty scratchy wools & cardigans, when in reality it can produce the most amazing modern fabrics and designs.  Often I have students who have some experience in machine knitting, but gain a new perspective on basic techniques during my workshops.  With a degree in textile & fashion design, I'm really interested in pushing the boundaries of knitwear, so find that I naturally explore and push techniques as far as possible leading to new and exciting outcomes.  Simple techniques like striping can be exploited in more ways than just colour & pattern, which I share in the Beginner workshop.
It's my goal to get people excited about machine knitting & itching to have a go themselves.  Developing their skills & making pieces for themselves.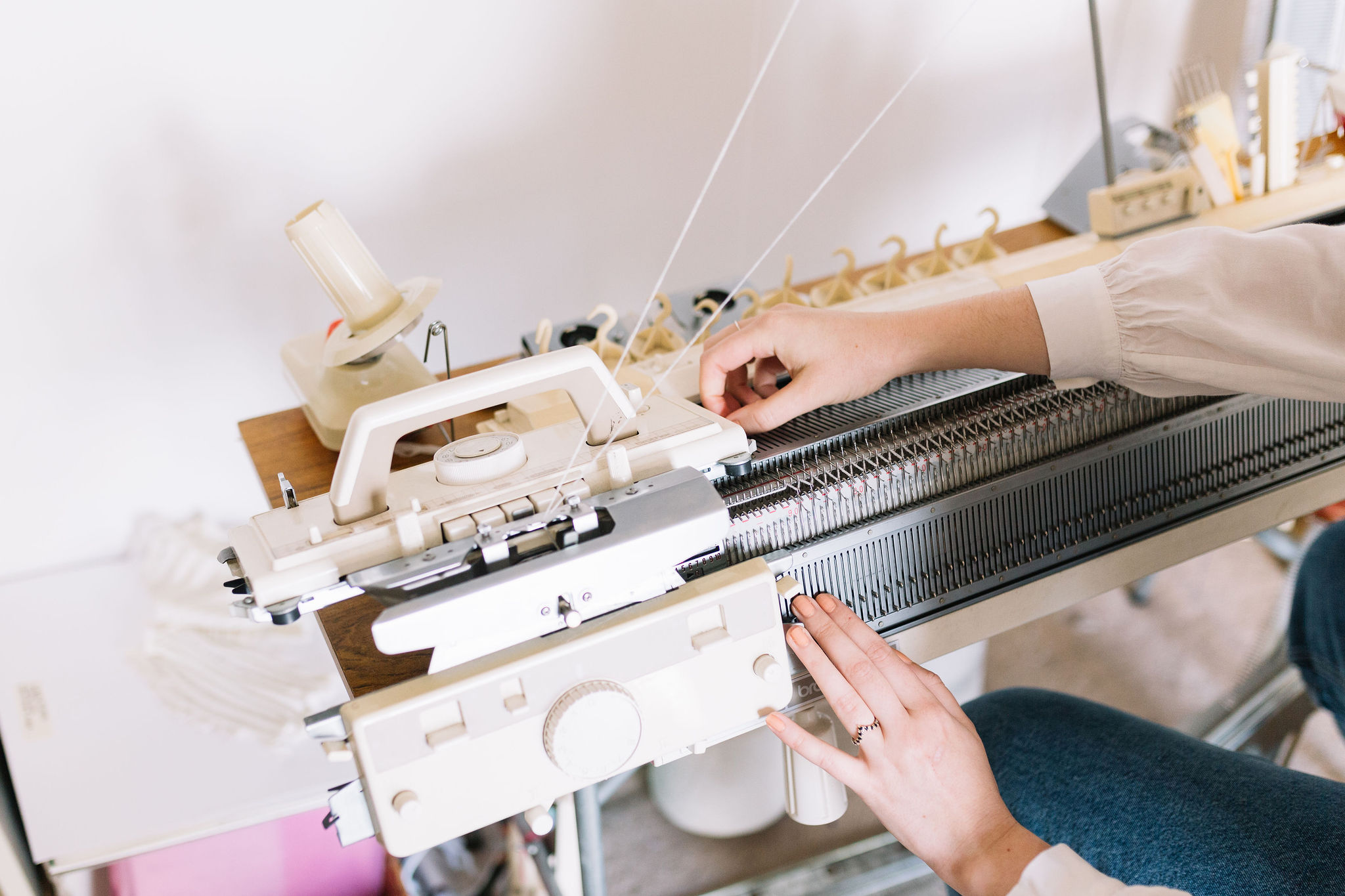 How the online knitting machine classes work
For all three of my machine knitting workshops, you receive the following:
a recording of a workshop delivered over Zoom, using pre recorded videos of each technique with commentary & extra pieces of information about my design processes, tips and tricks.
Individual videos of each technique which includes commentary, lots of inspiration for how to develop them & lots of examples of different fabrics created with each technique.
Written notes for referencing back to after the workshop
Email support for any queries afterwards
Helpful links for yarn companies, websites etc
I've found this method of teaching to be as successful as teaching in person, maybe more so because you have all the videos to refer back to & can work at your own pace in the future. I teach on a Brother KH890 machine, but almost all of the techniques are transferable to most machines including knitmasters & silvereeds. I can also put together one to one online classes for specific topics if you would like to trouble shoot or ask questions live.
Reviews for online knitting machine classes
I am incredibly proud of the classes I have produced & the progress my students have made after taking them.  Here are some of the kind things they have said after taking my workshops.
"I highly recommend this workshop for both full beginners but also more experienced machine knitters as it is covering both all the basics but Amber will also show and explain how to experiment with material and stitches in a very free and creative way."
"I've personally followed the workshop over a couple of weeks (it's about 3 hour long in total) while practising along on my machine and it was very nice to be able to learn and experiment at the same time pausing the videos when I needed to or going back to certain parts when needed."
"I would really recommend Amber's machine knitting workshops. I learned so much in two well-structured and info-packed sessions. She is clear, thoughtful and thorough as well as being a complete expert and very inspirational. I came away feeling properly empowered to knit garments using the correct techniques and calculations."
"This is hands down the best online machine knitting class! Amber is so thorough with her explanations, she goes through the basics to get you started understanding how the machine works, how to set it up, and how the main techniques you'll need work, but she also includes TONS of AMAZING inspiring samples that combine different techniques and yarn types and talks through how they've been made. This part of the course is SO inspiring and will go a long way in nudging your imagination."
Top tips for learning how to use a knitting machine
Be patient with yourself, it can be complicated but being patient and methodical will help you pick it up.
Practice practice practice.  Practice makes perfect, nobody becomes an expert over night.
Don't worry about making mistakes.  Mistakes are a positive thing, they help us learn and truly understand how the machine works, which will greatly impact what you can do with it.
Pick a technique that clicks, and thoroughly experiment with it.  The confidence you will gain will help you learn more techniques and develop your skills quickly.
Purchase my machine knitting workshops, they are designed to help you learn in the most methodical and easiest way possible!
Have fun! Don't be afraid to have a go, experiment & see what happens!
Want to learn machine knitting?
If all of the above has got you intrigued about machine knitting & itching to have a go, then click through to each workshop above to find out exactly what you'll learn & how to get started.  If you would like any help or have any questions about machine knitting and knitting machines please feel free to email me : studio@amberhards.co.uk