I'm not usually one for writing blog posts- words don't always come naturally to me, but I have something I would like to share & this seems the best way to do it.
Recently my Nana passed away & I have been thinking about how we are still linked & what she leaves behind. Now that some time has passed I wanted to put down some thoughts & memories about my Nana & our connection through knitting.
I was taught to hand knit by my Nana when I was young- I remember it being very tricky & I couldn't believe how fast she was knitting & all without looking!  When I finally got the gist of the basic knit stitch I spent the whole journey home knitting a rather wonky scarf.  I was fascinated by it, but didn't really understand what I was doing!
It wasn't until I went to University & my eyes fell upon a knitting machine that I really got the knit bug.  The further into the degree the more obsessed I became, loving how you could create an endless variety of fabrics from a single cone of yarn.    I can remember taking some work to show her whilst at university & her being suitably impressed- which felt like a huge pat on the back.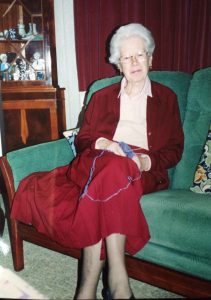 Nana was a knitter, an embroiderer, a knotter, a spinner, a painter & all over craft genius.  She continued to knit up until 6 months before she died.  I have a beautiful jumper that she made for my Grandpa & various other pieces that are now even more special to me.   My Nana suffered with Alzheimers in the last few years of her life- day to day things & memories began to fade- but she still kept on knitting.  She knit many of what she called "woolly wot-nots" to donate to charity.  Sadly they weren't quite right to give away (they weren't really the right size!) so I have some that I'll make into a blanket.
I realised at her funeral that among other things my knitting connects me to her still & I feel proud to follow in her footsteps.  The Joan jumper in the Kingston collection is named after my lovely Nana, it is my favourite piece & seemed fitting to name it after her.  I feel now more than ever that knitting was meant for me & I that I will never be able to give it up.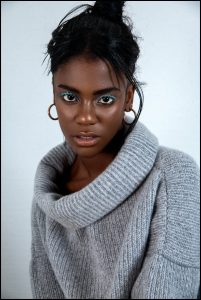 I have decided that for every purchase through my website from now until Christmas, that 5% will go towards the Alzheimers Society.  They are a fantastic organisation investing in research on dementia care, cause, cure and prevention & it seems like a fitting way to honour Nana's memory.
Knitting now more than ever is tangled up (excuse the pun) with my Nana's memory &  has become even more special to me.